Prices and special offers
SPECIAL OFFER 2023
BEST PRICE GUARANTEED
Discounts and promotions:
– Save a 5% off over than 7 nights stay, August excluded
– Enjoy a 10% off over a 2 weeks minumum stay, August excluded
– 10% discount on early bookings confirmed and paid (with a 20% deposit in advance) 6 months before the check in scheduled time
– 5% discount on early bookings confirmed and paid by a 20% deposit, 2 months in advance
On a 4 days minimun stay (July and August excluded), at your choice, to welcome you a local bottle of wine or aperitivo
If you have any doubts or questions, please just ask, you are welcome any time!
Mail: bebcaposperone@gmail.com
Tel. + 39 3483182981 Dora
OUR CANCELLATION POLICY IS FLEXIBLE

This is our cancellation policy, adjusted to your needs, safety and mind serenity:
Each of you who decides to book, has the right, at your choice:
– To get a total refund of the advance paid (which usually corresponds to 20% of the cost of the stay)
– To postpone the date of the stay, within 30 days notice from the check in, with a bonus to reward you for your trust: we increase what you paid with a 20% gift voucher, for those who cannot or simply will not want to come to Sardinia in that scheduled month in 2023, but will decide to come at a later time, giving you a voucher up to 24 months expiry. Our prices are clear, you find them shown in this table on our website, and modulated by season, so there is no possibility of misunderstanding.
These cancellation rules do not refer to what is usually defined as "cause of force majeure" (for example the inability to reach the island due to the suspension of flights or ferries, or the prohibition by authorities to move), but embraces any condition in which, for any reason, even personal, you decide to give up your vacation time, without having to give us any explanation.
This is because you guests are our most important asset, and we want you to be able to decide in the utmost serenity and without worries. In the meantime, our website is full of infos & tips about the beautiful Sant'Antioco island: take a look to enjoy a virtual tour. And if you want to reach us, book with confidence that you will not lose your money, in the worst case scenario it will be reevaluated.
We wish everyone a great vacation time!
Dora and Gianfranco
If you have any doubts about this policy, call us or write to us, we will be happy to answer your questions.
These prices as shown above include hot and cold water, electricity, gas, air conditioning (if present), wifi, parking, bed, bathroom and kitchen linen (if present), dishes and personal crockery.
These prices do NOT include the mandatory final cleaning and sanitation (€ 60 per stay for vacation home, 50 € for domes and Shell tent, 40 € for Safari Lodge and Big Safari tent) and the daily cleaning is on request, to pay for.
They do NOT include the Sant'Antioco tourist tax
Check in: 4 p.m. – 10 p.m. or otherwise agreed on
Check out: before 10.00 a.m. (if you need to delay your leaving, please ask, if it's possible, it'll be our pleausure)
If you travel with your pets, please ask first for agreements.
If you have any doubts or questions, please just ask!
Mail: bebcaposperone@gmail.com
Tel. + 39 3483182981 Dora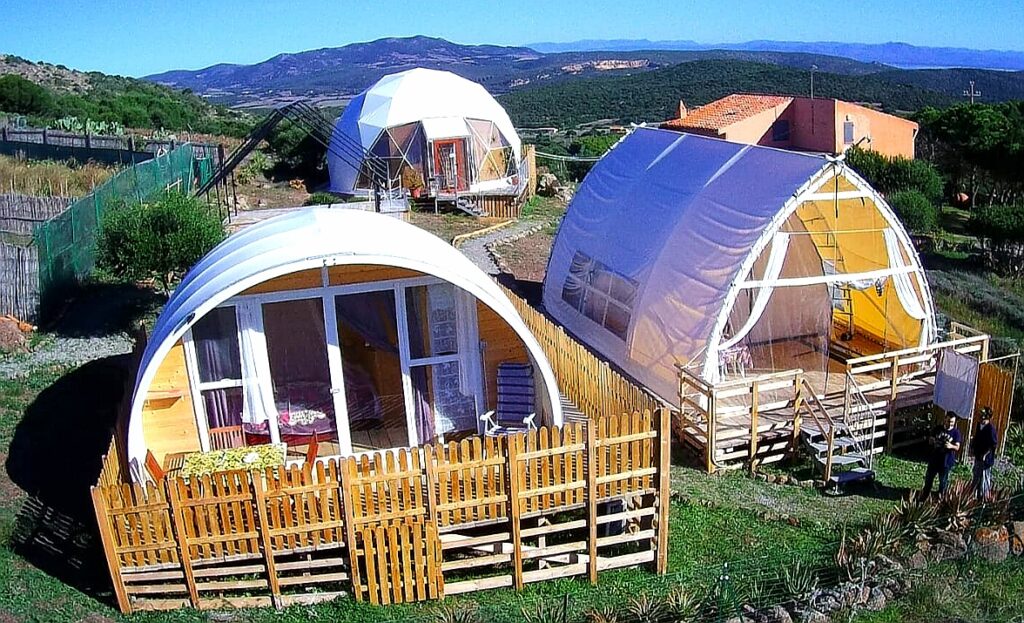 STAY-CONDITIONS-BREAKFAST-ACCOMMODATIONS-INCLUSIONS-AND-EXCLUSIONS-1-1